Nathalie Gluckstein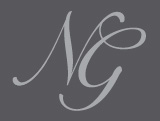 "Thanks, Nathalie, for your continued attention to detail. It has been an absolute pleasure working with you." - D.H.
"Nathalie Gluckstein offers refinement and class to all aspects of the interior design process. Being highly familiar with and connected to many of the best furniture boutiques in the industry in Toronto and abroad, she is able to source and help purchase a well-rounded ensemble of home furnishings and accessories for any home, regardless of scale or budget. Her exquisite taste and attention to detail enable her creation of balanced and beautiful home decor and her genuine personality and love for her work, results in an authentic and natural, warm and caring relationship with her clients." - J.S.
"Thank you for your support. The Patient Visitor's Lounge looks fantastic. Both patients and their families will appreciate for years to come." - J.T.